On or about January 15, 2008, I experienced the culmination of my
thirty-five year spiritual journey. Although I had, on previous
occasions, had phenomenal and profound spiritual experiences, this new
change was relatively subtle, and in its way, quite surprising. I
described it to my new yoga instructor after my second class: "Something
in me...is newly still."

I've written several pieces of poetry and prose describing this: a feeling
of stillness sitting right above my heart, a deep calm that remains
unyielding to the general chaos of activity, concerns and emotions of
day-to-day living. I remain aware of it, full-time now, literally every
day, with no diminuition, for over four months straight. I have no doubt
that it is now a permanent feature, the keystone of my consciousness. It
is more than "with me;" it is where I am, at all times, and while
everything else revolves around it, it remains constant, unmoving,
silent, and certain. It is the Peace that all the great prophets, saints,
and spiritual masters have spoken of.

It was also the promise made to me many years ago, when my teacher (a
guru in the truest sense) began to show me the real secrets of life, the
mystic arts and methods of meditating. He showed me how to focus on the
vibrant flow of life-force energies in the body; on the living light,
seen with the internal eye; on the whispered Holy Name within the cycle
of breath; and on the celestial harmonies: high-pitched, singing sounds
inside the brain. I followed these four meta-sensory dimensions with my
awareness and attention to the center of Self, and over many years,
gradually became aware of what it means to be "centered."

The benefits of regular meditation are fairly well-documented, in regard
to improved medical and psychological states. Even with my on-again,
off-again participation, the benefits I gained from practicing the
meditation method I learned so many years ago have been cumulative.
And while I am sure that I have reaped some medical and psychological
benefits, more significant to me is that it has allowed me to grow and
grow as a spiritual being, understanding more and more of what it truly
means to be alive, not only in this body and this world, but in the realm
of spiritual realization, and in God's Grace.

I feel very strongly that the constant nature of this peaceful center,
this stillness that sits above my heart, is a profound presence that will
not leave me, ever. My gratitude to God for this gift is immeasurable.

One day I joked that I have become the Buddha, wearing my brown Buddhist
prayer beads and giving out free clothing, food and drink to homeless
beggars, "Brought to you by the Buddha of Compassion." The following week
I am inspired by a radical Priest who teaches uncompromising pacifism,
and the sponsor is, "What Would Jesus Do?" The love and compassion of
Christ is with me on my rounds. I am Mr. Sunshine, my heart radiant with
love and joy, finding my true life's purpose in giving some small comfort
to "the least of these."

It's not much, but it's a start. I am new to this level of peace and
contentment, that I had so long hoped for. It's a new day, and I feel
excited to know that I now belong to God, no less than a priest or a
monk, a rabbi or a guru, a prophet, the Dalai Lama, or the Pope. My
religion is my own, informed by Christ, Buddha, Guru Nanek and other
great teachers. But most of all, the simple stillness above my heart is
the source of radiant spiritual energy. It sustains me, and I am content,
regardless of circumstances or events. My needs are met, easily, by pure
and simple Grace, and knowing that is the very meaning of faith for me.
At last, I can serve God and offer to others in need whatever fruits may
derive from my joyous heart.

PEACE & BLESSINGS,
JCG
New Member




Number of posts

: 3


Registration date :

2008-05-12



joshua_c_good wrote:On or about January 15, 2008, I experienced the culmination of my
thirty-five year spiritual journey. Although I had, on previous
occasions, had phenomenal and profound spiritual experiences, this new
change was relatively subtle, and in its way, quite surprising. I
described it to my new yoga instructor after my second class: "Something
in me...is newly still."

I've written several pieces of poetry and prose describing this: a feeling
of stillness sitting right above my heart, a deep calm that remains
unyielding to the general chaos of activity, concerns and emotions of
day-to-day living. I remain aware of it, full-time now, literally every
day, with no diminuition, for over four months straight. I have no doubt
that it is now a permanent feature, the keystone of my consciousness. It
is more than "with me;" it is where I am, at all times, and while
everything else revolves around it, it remains constant, unmoving,
silent, and certain. It is the Peace that all the great prophets, saints,
and spiritual masters have spoken of.

It was also the promise made to me many years ago, when my teacher (a
guru in the truest sense) began to show me the real secrets of life, the
mystic arts and methods of meditating. He showed me how to focus on the
vibrant flow of life-force energies in the body; on the living light,
seen with the internal eye; on the whispered Holy Name within the cycle
of breath; and on the celestial harmonies: high-pitched, singing sounds
inside the brain. I followed these four meta-sensory dimensions with my
awareness and attention to the center of Self, and over many years,
gradually became aware of what it means to be "centered."

The benefits of regular meditation are fairly well-documented, in regard
to improved medical and psychological states. Even with my on-again,
off-again participation, the benefits I gained from practicing the
meditation method I learned so many years ago have been cumulative.
And while I am sure that I have reaped some medical and psychological
benefits, more significant to me is that it has allowed me to grow and
grow as a spiritual being, understanding more and more of what it truly
means to be alive, not only in this body and this world, but in the realm
of spiritual realization, and in God's Grace.

I feel very strongly that the constant nature of this peaceful center,
this stillness that sits above my heart, is a profound presence that will
not leave me, ever. My gratitude to God for this gift is immeasurable.

One day I joked that I have become the Buddha, wearing my brown Buddhist
prayer beads and giving out free clothing, food and drink to homeless
beggars, "Brought to you by the Buddha of Compassion." The following week
I am inspired by a radical Priest who teaches uncompromising pacifism,
and the sponsor is, "What Would Jesus Do?" The love and compassion of
Christ is with me on my rounds. I am Mr. Sunshine, my heart radiant with
love and joy, finding my true life's purpose in giving some small comfort
to "the least of these."

It's not much, but it's a start. I am new to this level of peace and
contentment, that I had so long hoped for. It's a new day, and I feel
excited to know that I now belong to God, no less than a priest or a
monk, a rabbi or a guru, a prophet, the Dalai Lama, or the Pope. My
religion is my own, informed by Christ, Buddha, Guru Nanek and other
great teachers. But most of all, the simple stillness above my heart is
the source of radiant spiritual energy. It sustains me, and I am content,
regardless of circumstances or events. My needs are met, easily, by pure
and simple Grace, and knowing that is the very meaning of faith for me.
At last, I can serve God and offer to others in need whatever fruits may
derive from my joyous heart.

PEACE & BLESSINGS,
JCG
Beautiful - most beautiful indeed. Thanks for sharing this truly wonderful experience.

_________________
"I will reveal to you the hidden Treasures, the Riches kept in secret, that you may know that I am the Lord." (Isaiah 45:3)
Moderator





Number of posts

: 10


Registration date :

2007-11-07



Wow, Joshua, that was incredible.

I'm lost for words to describe my feelings on reading your story. Fantastic!
PLU ~ Bob

_________________
"Those who say 'they will die first and then rise' are in error. If they do not first receive the resurrection while they live, when they die they will receive nothing."
(Gospel of Philip)
__________________________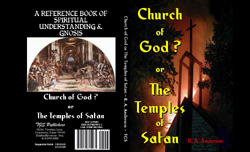 Admin




Number of posts

: 1350


Age

: 71


Registration date :

2007-11-05



---
Permissions in this forum:
You
cannot
reply to topics in this forum